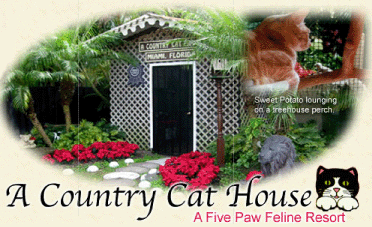 Hurricane Preparedness
It's important to take precautions for your pets. Here are some tips to help you care for your pet during the storm season, but first of all …

What is a Hurricane?
A hurricane is a tropical weather system with winds that have reached a sustained speed of 74 mph or more. Hurricane winds blow in a large spiral around a relatively calm center, known as the "eye." The eye is generally 20-30 miles wide, and the storm may extend outward from it for 400 miles.
As a hurricane approaches, the sky darkens and winds strengthen. As it nears land, it can bring torrential rains, high winds and storm surges. A hurricane can stretch the entire length of the eastern seaboard. The
74-160 mph winds can extend inland for hundreds of miles.
Hurricanes are classified into five categories according to wind velocity. Category 1 is the mildest; with winds from 74-95 mph. Category 5 is the strongest, with winds above 155 mph.
August and September are peak months of hurricane season, which lasts from June 1 to November 30.

Weather terms used for hurricane season:

Part of staying informed about weather conditions is understanding the different terms used by weather forecasters:

Advisory: Hurricane and storm information is disseminated to the public every six hours.

Special Advisory: Information is disseminated when there is significant change in storm-related weather conditions.

Gale Warning: Sustained winds of 35-54 mph and strong wave action are expected.

Storm Warning: Sustained winds of 55-73 mph are expected.
Hurricane Watch: A threat of hurricane conditions within 24-36 hours.

Hurricane Warning: A hurricane is expected to strike within 24 hours or less, with sustained winds of 74 mph or more and dangerously high water.

Tropical Disturbance: A moving area of thunderstorms is in the tropics.

Tropical Depression: An area of low pressure, rotary circulation of clouds and winds up to 38 mph is identified.

Tropical Storm: A storm characterized by counter clockwise circulation of clouds and winds 39-73 is brewing.
There are a number of websites that are well worth a visit and the list will grow. Why not start out by visiting the following:
More Important Information Regarding Hurricane Preparedness
Create A Check List of needed items
Prepared by the Staff of A Country Cat House using information secured from a variety of sources as well as the Web.
A COUNTRY CAT HOUSE
12006 SW 64 Street
Miami FL 33183

Ph. 305-279-9770
Fax 305-279-7744
mycat@acountrycathouse.com
BOARDING APPOINTMENTS SCHEDULED
ONLY BY PREVIOUS APPOINTMENT
HOURS
MONDAY-FRIDAY
9:00AM-12:00PM
AND 3:00PM-4:30PM
SATURDAY
9:00AM-12:30PM
HOLIDAY WEEKENDS & SUNDAY OFFICE
IS CLOSED FOR THE PUBLIC VIEW CALENDAR
Check-out time for boarding guests is between 9am-12:00pm to avoid charges for the day. All drop offs and pick ups are by appointment only.