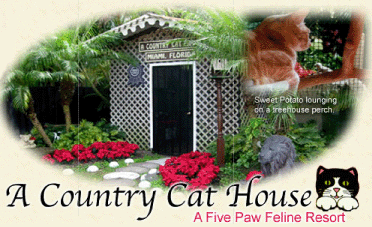 Hurricane Preparedness: Alternatives
The only way to reduce the devastation of a hurricane is to be prepared.

If you have no alternative but to leave your pet at home, there are some precautions you must take, but remember that leaving your pet at home alone can place your pet in great danger!
Confine your pet to as safe an area inside as you can. NEVER leave your pet chained outside.


Place a notice outside in a visible area advising what pets are in the house and where they are located.


Provide a phone number where you or a contact can be reached as well as the name and number of your vet.


Identify family/friends meeting places in case you are separated.


Choose a place in a building or park outside your neighborhood
(every one should be clear about this location)


Develop an emergency communication plan - ask an out-of-state relative or friend to serve as the family's contact.


Make sure everyone knows the telephone number of this contact.


More Important Information Regarding Hurricane Preparedness
Create A Check List of needed items
A COUNTRY CAT HOUSE
12006 SW 64 Street
Miami FL 33183

Ph. 305-279-9770
Fax 305-279-7744
mycat@acountrycathouse.com
BOARDING APPOINTMENTS SCHEDULED
ONLY BY PREVIOUS APPOINTMENT
HOURS
MONDAY-FRIDAY
9:00AM-12:00PM
AND 3:00PM-4:30PM
SATURDAY
9:00AM-12:30PM
HOLIDAY WEEKENDS & SUNDAY OFFICE
IS CLOSED FOR THE PUBLIC VIEW CALENDAR
Check-out time for boarding guests is between 9am-12:00pm to avoid charges for the day. All drop offs and pick ups are by appointment only.