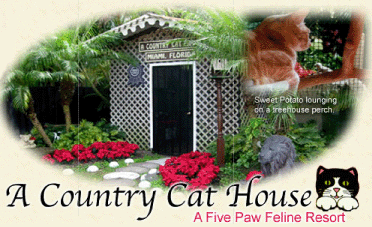 Hurricane Preparedness - START PLANNING NOW
A well-thought-out plan for you and your family can go a long way toward reducing potential suffering and keep family and friends out of state informed rather than concerned. Last year the biggest concern voiced, in particular by out of towner's and relatives was 'Not knowing what was happening'. With hurricane season upon us, preparing your family hurricane plan is the first step.
It's important to take precautions for your pets. Here are some tips to help you care for your pet during the storm season,

August and September are peak months of hurricane season, which lasts from June 1 to November 30.
Before a Hurricane Strikes
Plan a safe evacuation route that will take you to a shelter or 20-50 miles inland. Now is the time to ensure you know the routes!
* KNOW WHERE TO GO: Most emergency shelters can't accept pets and animal shelters and boarding kennels often have limited space. If you've waited too long to get space in your pets local kennel, make arrangements with a out of town kennel, out of the path of the storm or leave them with a friend or relative, but DO NOT LEAVE THEM AT HOME. After Andrew, thousands of pet dogs and cats were left dead, dying, starving, disoriented, diseased and lost and had to be euthanized. Prepare ahead so this won't happen to your pet.

• KEEP CURRENT MEDICAL RECORDS ON HAND: Many kennels and shelters will not take pets without proof of vaccinations, and if a pet is injured or becomes ill during the storm, access to medical records will help vets provide better care.
* PLAN A SAFE PLACE FOR YOUR PETS Pick out the best kennel in your area and check your pets in for a few days to become familiar with their surroundings and staff. Your pets vet information and vaccination records will be required so they will be on record, you will be a customer, and will most likely receive preferential treatment when you have an emergency or an impending storm is on the way.
* MAKE SURE IDENTIFICATION TAGS AND VACCINATIONS ARE UP TO DATE. Securely fasten identification with your name and phone number to your pet's collar. If possible, attach the address and/or phone number of your evacuation site or someone outside the state. If a pet becomes lost or escapes during the confusion of an evacuation situation, proper identification will increase the chances of a safe return to you. Consider permanently identifying your pet with a microchip identification NOW.
* GET A PET CARRIER: A strong, individual carrier for each pet in the family will make transporting pets safe and give them a feeling of security. Make sure the carrier is approved for airline travel (even though you are not flying), because they are the best and most secure. Have a leash or harness for your pet so if it panics, it can't escape. BUT NEVER LEAVE YOUR PET IN A CARRIER AT HOME IN AN EMERGENCY SITUATION.
* CREATE A "PET PREPAREDNESS KIT": It should contain photos of your pets, bottles of water, extra food, extra blankets, a soft muzzle, collar, leashes, vet records, cat litter/pan, can opener, food dishes, (enough to last for at least a week) a first-aid kit and a three week's supply of any medication and dosage instructions. It may be hard to get a refill from our Vet after a storm.

This advance pet planning will let you focus on the preparing for the safety of your family and preparing your dwelling for the storm, knowing your pet/s are already provided for. If they've boarded there before, they will be familiar with the staff and think they're going on vacation, they will be in a familiar place. This will give you peace of mind to deal with other matters that need to be addressed.
* CHECK YOUR HOME OWNER/RENTAL INSURANCE POLICY Many insurance policies had a provision that covered most or all of the boarding expenses for families after Hurricane Andrew. If yours does not, you may want to consider adding this coverage.
More Important Information Regarding Hurricane Preparedness
Create A Check List of needed items