Diets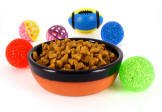 Breakfast is served promptly at 6:00 am with midmorning treats at 11:00 am. Dinner is served at between 4:30 and 5:30 pm and interior lights go off at 7:00 pm as the garden lights go on. Afternoon treats are served promptly at 3:00 pm and 8:00 pm in the evening.
Our guests love the change of entertainment when the garden lights come on and instead of butterflies and birds, out come all the night flying creatures they love to watch.. which they can do until they choose to go to sleep... to the gentle, peaceful sounds of Mozart playing in the background... Ahhhhh, the good life! "Thanks mom and dad for bringing me to A Country Cat House.
Feeding time and treat times are extremely important times in the cattery and we strictly adhere to the routine. If we are not right on time, be assured every cat in the cattery will let us know immediately!
We feed premium Science Diet, Iams, Proplan and others, or you may bring your own from home and we are happy to feed it to your kitty or kitties. There is no extra charge for giving your cat/s food from home even thought it takes more time for the staff to stop where they are in the feeding routing when they come to your cats' condo and go get their personal food. We are happy to do this for you.
A very wide variety of the most popular cat 'treats' Treat Time is 11 am and 3 pm...and the cats 'know' when the treat cart should be rolling across the tile!
If your kitty is especially finicky and you have special foods or diet requirements and wish to bring your own food and treats, that is fine, there is no extra charge. We do not provide prescription foods.
If you are bringing your own food, it must be in a tightly closed container, zip lock bag or original food bag and must be labeled. No glass containers, big containers, or very big bags are allowed. Try to bring the necessary amount for the days your cat is going to board with us.
On pick up, please check and make sure before you leave the premises that your food container and whatever food is left is returned to you at that time. We cannot be held responsible for food containers, food, and treats left behind after pickup.