A Country Cat House Information
A Country Cat House
12006 SW 64th St
Miami, FL 33183
Phone Us
305.279.9770
Fax Us
305.279.7744

EMAIL US FOR RESERVATIONS
acountrycathouse@gmail.com

"Your Peace of Mind and Your Cats
Contentment is Worth The Best"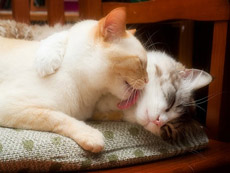 Boarding Charges: The first day of charge is check in day regardless of what time your cat checks in. We are here from 9:00 am to 4:30 for check in. Check-in day is day 1.
Check-Ins: Whenever you bring your cat on check-in day, that is a day one of boarding charges. On the check out day, if you check out before 12:00 noon, there is no charge for that day. If you check out one minute after 12:00 noon on check-out day, the computer charges another day to your account and the office staff cannot turn it back and it must all balance. If you don't get the cattery before noon, you will be charged for that day but you have all day until before noon the next day to check out without incurring another day's boarding charge
Check-Outs: There is no charge for the day of check out if the cat(s) are picked up before 12:00 noon, the clock rolls over to another day's charge in the computer and the staff cannot roll it back. The charges on the computer must balance, so please don't ask for a favor not to be charged for the day of check-out if you were not able to pick-up before noon. We ask for your understanding in this matter so please don't ask and put the employees in an embarrassing situation.
Minimum Charge: We have a two-day minimum charge during regular times of the year. We have a four-day minimum for holidays. We always book full for holidays and we do not keep a waiting list of people who wanted to board that we had to turn down. When we are full, we stop taking reservations, so you will always be able to count on having your cats unit ready and waiting upon your arrival when you have made a reservation
Reservation Deposits: There is a non-refundable between $50 and $100 deposit per cat required of everyone because space is limited. This is a minimal deposit, a minimal amount for the lost revenue we suffer when we turn away another customer because we thought we were booked. We do not keep a waiting list of people who 'wanted to board'. Once we are full, we stop taking reservations. You will appreciate this when you make a reservation because you can rest assured your cat/s unit will be available and ready for you on check-in. No one else can take it from you.
What to Bring: Proof of current vaccines (or have them faxed by your vet 5 days prior to boarding), your cat inside individual pet carrier/taxi, photo ID (for identification purposes) food, medications, supplements, if needed, and any cat toys. All male cats above 12 months should be neutered. Non-neutered males have a tendency to spray for marking territory and howl in the evening and we don't want to bother the rest of our guests.

What does our price include?
Diets Premium Science Diet, Iams, Proplan and others, or you may bring your own from home and we are happy to feed it to your kitty or kitties. There is no extra charge for giving your cat/s food from home even thought it takes more time for the staff to stop where they are in the feeding routing when they come to your cats' condo and go get their personal food. We are happy to do this for you.

A very wide variety of the most popular cat 'treats' Treat time is 11 am and 3 pm...and the cats 'know' when the treat cart should be rolling across the tile!

Feeding time and treat times are extremely important times in the cattery and we strictly adhere to the routine. If we are not right on time, be assured every cat in the cattery will let us know immediately!

Catnip Parties, Free Toys We find about 80% of our guests love catnip..the other 20% couldn't care less so we give them a variety of 'treats' until we find their 'favorite or favorites,' which we make a note of on their record for future visits.....unless they are on a restricted diet, are overweight, or you, the owner instructs us your cat(s) cannot have treats.

Daily individual 'Playtime' with a member our staff in the cat-playroom The 'Playroom' is a beautifully tiled and screened-in fresh-air room designed for the cats to run, play or take another 'nap.' It overlooks the back garden as well as the horses in training in the pastures. It is used by the staff to bond with the cats individually so they get to know each other very well. The cats also get a lot of daily personal bonding and attention in their individual condo.

Odor-Free Environment All litter pans are exchanged upon soiling. We never have an odor since any signs of a soiled litter pan will be dealt with immediately and swiftly.

Daily Brushing and Combing Owners tell us their cats don't even allow them to brush and comb them at home and are frequently surprised to see their cat thoroughly enjoying being brushed or combed by us. As one customer said: "Go Figure?"

Daily Monitoring of Activities and Behavior: 24-Hour Care and Supervision There is always a staff member in attendance with the cats and they are continuously monitored. When they poo or urinate in their litter pan, the pan is replaced by a clean one and their personal chart is noted whether they urinated, poo'd or both. We watch their daily food and water intake as well.. we watch what goes in and what comes out and have the experience to know and be alerted to any possible problem. We have saved many cats lives by noticing a cat who did not urinate and determined it should be seen by a vet.. for possibly, cystitis, a medical problem common to neutered males about 4 years old if they have been on a cat food at home high in ash content. (This is one of many of the extra benefits of boarding with us as opposed to hiring a pet sitter or having a friend come in and feed and change water. Just from the nature of two different businesses, we are there all the time watching the cats and have the advantage of having this knowledge that pet sitters would have no way of knowing.

We have the knowledge by constant monitoring and knowing each and every single time your cat uses the litter pan, drinks water or doesn't drink water or eats or doesn't eat. The office manager is immediately alerted if any one of these observations are out of line and the staff is always prepared to take your cat to its vet or another vet or clinic if your vet is not available. If we sense a pending problem, we don't take a chance with your precious feline child...yours is treated like our very own, and be assured we love our cats as we do our children.

You cannot replace our experience and constant monitoring of your cats behavior when you are away, with any other form of cat care. We most likely will know more about your cat's 'personal habits' than you.....which is good for 'you'!.. having the peace of mind knowing your cat is in the care of one of the nations finest cat care facilities with the most experienced cat-care specialists in the nation...and knowing you have made the best possible choice for your cat's-care.

Being left home alone all day and all night, except for perhaps 5 minutes to change litter and freshen the food and water by a friend, neighbor, someone's teenager, or a pet sitter is not your best choice for your cats care when you have access to an PCSA Accredited boarding facility only minutes away from where you live...and we are sure you will find our pricing very, very modest for what we offer...

..and we don't need a copy of the keys to your home...keys that are often given to helpers that you never know...

Pick-Up & Delivery Service: Can't bring your cat to us or do a pick-up yourself? Sometimes flight schedules or other travel pressures make personal drop-offs and pick-ups impossible. When that happens, A Country Cat House is pleased to offer pickup and delivery service to clients who's cats have stayed with us before. The first time your cat boards with us, you must bring him/her to us yourself and sign paperwork at our office. But, after that, you can arrange for us to pick up and deliver your cat just by sending us an e-mail to acountrycathouse.gmail.com Just give us the details of your location, and we'll tell you the service charge. Our prices are very fair and are based on the distance to travel and the time it will take our employee to provide the service.
For Pick-Ups, please have your cat in a carrier ready to go when our staff member arrives. If you have more than one cat please send each cat in a separate / individual carrier. We kindly request not to use cardboard pet carriers as they are not a SAFE method for transporting a pet.
For Deliveries, you or a person you've officially designated, such as a family member or friend - may be present to receive the cat. We are very punctual. Being ready to promptly hand off or receive your cat eliminates any extra cost over our already quoted charge.

Feline Grooming Services You do not have to board to use our Grooming Services. We do not have dogs and we do not use any chemicals or tranquilizers. We groom with love, understanding, patience... do come! (Also, remember, even short-haired cats like to be 'clean down to the skin' and love the pampering. it's not just their long-haired cousins who deserves this treat! All cats of every kind enjoy feeling of being clean.

Tell A Friend 3/4 of our customers come to us from personal referrals. We like to show our appreciation to those who take the time to tell others about the great services we provide at A Country Cat House. Refer a friend, relative or colleague to us for boarding and we'll send you a certificate good for two free days of boarding on your next visit. No blackout dates - no minimum stay required. Just Click Here to refer a friend via e-mail. We'll do the rest!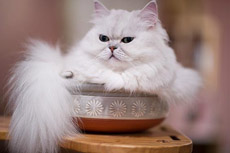 Guest Services
Cat Lodging
More Service Info
Cat Grooming
Home