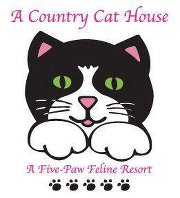 Luxury Cat Lodging
A Country Cat House
12006 SW 64th Street
Miami, FL 33183
Phone Us
305.279.9770
acountrycathouse@gmail.com
New Client Click to Request Rate
Request Boarding Reservations
Request A Groom Appointment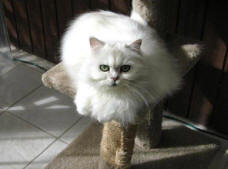 At A Country Cat House, a fine cat boarding facility, we require proof of certain vaccinations before boarding your cat, unless your Veterinarian tells us otherwise. Make sure you have prepared copies of your cats vaccinations and that you have them with you when you arrive or better yet, to save you time, email or fax them prior to boarding or have them faxed or e-mailed directly from your Vet's office to:
acountrycathouse@gmail.com
This will guarantee
you a quick check-in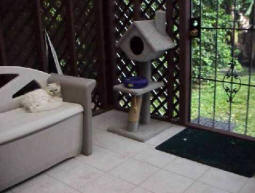 What your kitty will receive...

A large, custom-designed one, two or three-level condo of your choice with a full window view of beautiful tropical gardens equipped with a fishpond, a cascading fountain, birdbaths & Birdfeeders and literally thousands of garden inhabitants of every kind and nature, including lizards, birds, butterflies, moths and millers, frogs and others... all for your kitty's viewing pleasure and entertainment.
There are no barking dogs, no loud noises or voices and the only sounds are soft, classical music, water softly cascading from the fountains, and the sounds or numerous varieties of birds who live on the premises.
Our fresh-air exchange system, combined with our company policy of exchanging litter boxes as soon as there are soiled, means the air is fresh and pleasant at all times.

The kitties always have fresh, distilled cool water available, as well as premium foods and the very finest of treats to satisfy the most finicky feline palate.
They enjoy the relaxing 'hands on' daily massages by our loving staff. They receive lots of petting, gentle combing and soft brush each day during our bonding periods. All kitties get to know the entire staff and see them throughout the day and evening. We talk to them softly and they know our voices. They respond with purrs and playfulness in return. They are all a treat and are our pleasure to care for until you return. We are truly your 'surrogate' while you are away. After all, you are Mom and Dad but you will know your cats are happy and loved during your absence. Isn't that the very best service we could ever give you? For you to know that your cats are happy and receiving the very best of care? You never have to feel guilty ever again when you go away. Go away and have a very good time, because your cat/s are. You have us and we are going to be here a long, long time.

Your kitty will always feel safe and secure in their own private condo where they can't even see another cat on either side, above or below. They are safe and in complete control of their environment. The reason for the exact size and style of the cat condos was arrived at by trying different prototypes on our own cats at the very beginning to see their reaction to various models, sizes and styles. This design was neither too big nor too small but just right! and when we experimented with many other cats and fount it to be true, we never deviated from our design again. Why should we? We found out exactly what made the cats happy and content, and most of all, in control. Your cat never comes into contact with any other cats other than their own household feline members and our own cat-loving staff.

Grooming: Most of our long-time customers take advantage of the opportunity to get their cats bathed or groomed while they are boarding, whether they are long or short-haired, so they are nice and clean going home...the cats are always grateful to be clean. Grooming is an additional charge depending on the length of coat and its condition. Long-haired, deeply matted coats require meticulous, time-consuming work by our professional cat groomer, literally cutting mats out hair by hair. Our grooming is performed at your cat's pace with understanding, love and patience.
Hours of Operation: Office hours to for drop offs, pick ups, visits, tours and grooming appointments are done by previously scheduled appointments:
Weekdays
9am-12:30pm and 3-4:30pm
Saturdays
9:00-12:30pm
Check-Out Time is for boarding guests is between 9am - 12:00pm to avoid charges for the day. Each Sunday the office closes in addition to the dates listed on our Calendar.
Hurricane Watch/Warning: Times and dates of operation may change please phone us ahead of time.