BOARDING APPOINTMENTS SCHEDULED
ONLY BY PREVIOUS APPOINTMENT
HOURS
MONDAY-FRIDAY
9:00AM-12:00PM
AND 3:00PM-4:30PM
SATURDAY
9:00AM-12:30PM
HOLIDAY WEEKENDS & SUNDAY OFFICE
IS CLOSED FOR THE PUBLIC VIEW CALENDAR
Check-out time for boarding guests is between 9am-12:00pm to avoid charges for the day. All drop offs and pick ups are by appointment only.

LOCATION
12006 SW 64 Street
Miami FL 33183
acountrycathouse@gmail.com

Fax: 305.279.7744

Hotel para Gatos, Cuidado de Gatos,
Gato, Hospedaje para gatos
We are located in the small equestrian community known as West Kendall's "Horse Country", A Country Cat House provides one with a feeling of well-being as soon as they enter the walled and gated property. The cattery is nestled among beautiful mature banyan trees, Royal Poinciana and lush tropical gardens. We are a cat boarding kennel and cat grooming facility accredited by Pet Care Services Association (PCSA) serving Miami & South Florida cat owners since 1988.

As the years go by our experience and knowledge grows. We have built a very solid and dependable reputation that bring our clients back to back, year after year, many of them drive many hours to come here.

We have been giving cat owners like you not just high-quality services in our cat resort; but the knowledge that in your absence, your cat will be safe, happy and, most of all, loved.
Facilities for our feline friends are beautiful! We have huge windows with shaded views of the tropical gardens and spacious individual enclosures for each guest. Each cat receives personal attention and care. Cats are given plenty of opportunity to explore the playroom as well as their own spacious, private chalet or treehouse... plenty of room to run and play.

Going on a business trip? Taking a vacation? having relative visiting that are allergic to cats, you house is being tented? Now you can leave town knowing that your cats are receiving all the love, care and attention they get from you at home.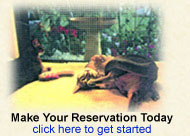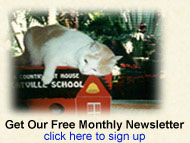 BE PREPARED!
Hurricane Preparedness Make Plans
Ahead for Your Pets